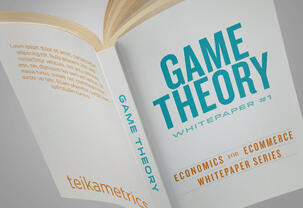 As an ecommerce retailer, you're never operating as an island. Every decision you make - from lowering prices to investing in inventory - has implications for the rest of the industry.
An understanding of core economic principles can help you take control of your business's strategy, so you're
acting strategically, rather than merely reacting to competitors.
When you download this whitepaper, you'll learn:
What's really going on during a price-war
3 crucial rules when setting your repricing logic
How to out-compete the competition with

stategic inventory investments

The 5 most common pitfalls ecommerce retailers make when dealing predatory pricing
Game Theory is the analysis of strategic decisions and reactions from competitors. For e-commerce retailers it helps explain the outcome of many competitive scenarios including price-wars, repricing logic, and strategic inventory investments.
Whether you're looking to gain strategic insight or specific tactics, our whitepaper will ensure you're keeping the larger competitive picture in mind.